Our Story
From a young age Dr. Michael O'Brien always loved animals. Little did he know that his love of animals would someday translate into a local family-owned business committed to providing the greater Modesto area with the best possible veterinary medicine.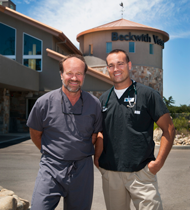 Dr. O'Brien and his son, Chad O'Brien, both UC Davis Veterinary School grads, are proud to now operate two veterinary hospitals here in Modesto - Maze Animal Hospital and Beckwith Veterinary Hospital. 
Maze Animal Hospital was started in 1959 and was taken over by Michael O'Brien in 1976.  More than 35+ years later we are still offering excellent veterinary care.   We built our Beckwith Hospital in 2012 with the vision of providing cutting edge veterinary care in a cutting edge facility.   We hope you will take the time to come see our building and experience our great care for yourself.